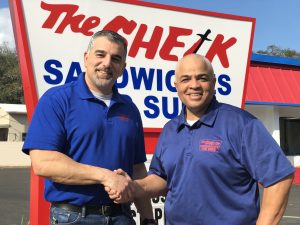 NEXT Franchise Systems is proud to announce the opening of a new The Sheik Sandwiches franchise location in Green Cove Springs, Florida. The restaurant is the 8th for the Jacksonville-based fast-casual chain and the first of many franchises it hopes to open across the state in the next year.
Founded in 1974, The Sheik Sandwiches is known for hearty breakfast platters and signature pitas and sandwiches — with the most popular being the "Steak in a Sack" and the "Camel Rider." All Sheik locations feature counter service, interior seating, and takeout. Many Sheik locations also feature drive-through windows.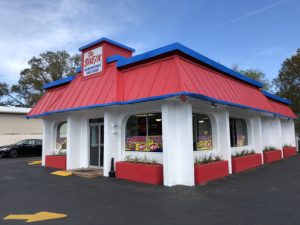 Mike Salameh, Vice President of The Sheik Franchise Group, said The Sheik has been a Jacksonville tradition for more than 40 years. "The Sheik is a staple in the community of Jacksonville because we've been around for so many years," said Salameh, "and nothing has changed — we've always offered great food, great prices, and great service."
Jamil Boutros, franchisee and owner of the Green Cove Springs Sheik location, said he was looking to purchase a business when he stopped into The Sheik Sandwiches location on Atlantic Boulevard in Jacksonville. "I spoke with the owner and it sounded like a good fit for me," said Boutros. "I have always been drawn to The Sheik for their friendly service, good food, and atmosphere."
The Sheik Sandwiches is located at 422 S. Orange Ave., Green Cove Springs, FL 32043. The grand opening will take place on Saturday, March 17th.
The Sheik franchising plans call for organic, regional growth first – followed by aggressive expansion throughout Florida. "We've got plans to max out the Jacksonville market while also moving into the Orlando, Tampa, and Miami markets," said Salameh. "It's very exciting to open your first franchise and it's great to bring our food to new locations. The Sheik Sandwiches is a staple in Jacksonville and hopefully in an area near you soon."