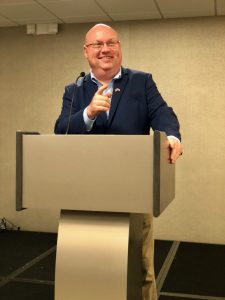 James Emerson, CEO of NEXT Franchise Systems, spoke at the recent Puerto Rican Summit in Orlando about creating jobs and opportunity through ownership of a Willer's SuperMarket, a recently launched franchise opportunity developed in partnership with NEXT. Speaking to a full room, James said one of the best reasons to own a franchise is because it offers the franchise owner a support system he or she would not have otherwise. "Through franchising, you're in business for yourself, but not by yourself. You have the full support of the corporate team behind you. You have the on-going training, the operations and marketing support, and even the support of fellow franchisees. It's the best way to open a business for yourself," said James.
Willer's SuperMarket currently operates one store in Kissimmee, Florida and is looking to expand across the U.S., focusing on markets with large Puerto Rican and Hispanic populations. Willer Velez, Willer's SuperMarket Founder, said "It's our mission to bring everything we love about our beautiful island to the mainland and make it available, for not only Boricuas, but for everyone. There's so much to love about Puerto Rico, from the food, to the people, to the music, to the culture, to the art, and to the traditions of the "la isla del encanto." We hope you will find all of that and more at Willer's SuperMarket."
James was one of several speakers Friday at the ninth annual Puerto Rican Summit in Orlando, including Senator Bill Nelson, gubernatorial candidate Philip Levine, and Puerto Rican Governor Ricardo Rossello. The summit is an annual event that focuses on bringing together business owners and entrepreneurs in creating a stronger partnership between Florida and Puerto Rico.
For more information on Willer's SuperMarket, contact James Emerson at NEXT Franchise Systems.
Photos from the event…