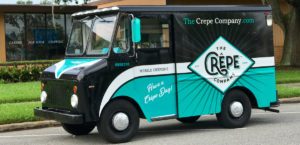 Affordable, easy-to-own crepe restaurant franchise offers an amazing mobile opportunity for foodies across the U.S.
Lisa Fareed, aka "The Crepe Lady", founder of The Crepe Company, a mobile crêperie, announced plans today that call for the company to open franchise territories across the United States. The Crepe Company, operating in the Central Florida area since 2009, will focus on an aggressive growth strategy of opening the mobile crêperie and catering franchise businesses across Florida and the Southeast through 2018, then offer nationwide expansion in 2019.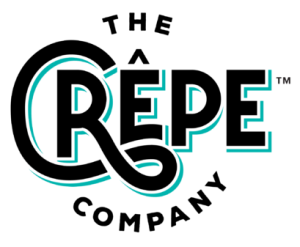 According to Fareed, The Crepe Company's success has largely been due to its simple operation, low cost-of-entry, and the general public's love for fresh-made crepes. "While the art of crepe making is entertaining to watch, and the aroma draws the crowds, it's the specialty niche that makes it profitable. With minimal competition, easy food prep, low food, labor and fixed costs, it's a great opportunity for the right entrepreneur," said Lisa.
James Emerson, Managing Partner at NEXT, said of The Crepe Company, "First of all, I was immediately drawn to The Crepe Company branding. Lisa's mobile crêperies and food truck were so cute and nostalgic that they just stood out amongst other trucks," said James. "And what can I say about the crepes? People are captivated by the crepe making experience. Crepes have entertainment value and the crowds are drawn by the smell and watching them made on site. When The Crepe Company finalizes its franchise system, this is going to be one of the most value packed-offerings I've seen in a while."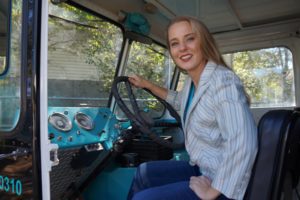 Lisa said after operating her mobile catering business for several years, she decided to franchise because her customers were always asking about the opportunity to own their own mobile crêperie. "I got into the crepe business because, like many people, I wanted to control my financial destiny and own my own business. What better than food I thought – everybody eats," said Lisa. "Crepes are delicious and they are unique and different. Now anyone can own their own crepe business when The Crepe Company franchise system is in place." James said there is more to the business than just mobile crêperies. "The Crepe Company is really a mobile restaurant/catering business that has options that a typical food truck franchise just does not offer – it's really a mobile catering business bringing the crepe experience to you."
ABOUT THE CREPE COMPANY
The Crepe Company enjoys a strong reputation with high repeat and referral business. The unique and antique food truck, and mobile crêperies are beautifully branded, and stay busy year-round, serving lines of customers hungry for sweet and savory crepes at markets, fairs, festivals, weddings and private parties.
The Crepe Company is looking for entrepreneurs who share their same vision for service and success, and who are interested in owning and operating franchise territories in markets throughout the United States.
Visit http://www.thecrepecompany.com to learn more about The Crepe Company.
ABOUT NEXT FRANCHISE SYSTEMS
NEXT Franchise Systems is a full-service franchise development company that provides future franchisors with a one-stop solution that is affordable, reliable, and based on each client's needs.
NEXT's services include franchise development documents (FDD) and franchise agreements, franchise marketing, franchise sales, franchise operations manual development, franchise marketing program development, and franchise business model development.
MORE INFORMATION
For more information on The Crepe Company or NEXT Franchise Systems, contact NEXT or call James Emerson at 407-536-6109.