BBQ is big. So is the Porkie's Original BBQ franchise.
If you've done your research on the BBQ industry, you know that BBQ is hot (in more ways than one) right now. There's high demand amongst consumers for down-home, comfort food, high-protein food and a menu full of items they can't get just anywhere. Porkie's fits the bill to a "T".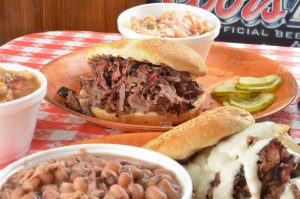 If you've researched the franchise industry, you know that BBQ is even hotter! The marketplace is saturated with pizza, Mexican and sub sandwich concepts. BBQ, however, is under represented and no one chain dominates the national market. That's where Porkie's comes in!
At Porkie's Original BBQ, we've got you covered when it comes to amazing food and an operation that can't be beat. You get both when you open a Porkie's Franchise!
So, from all of us at Porkie's, we say "thank you!" for your interest in our franchise opportunity. Please know that we are always available to answer any questions you might have. I look forward to meeting you in person and helping you get to smokin'!
Sincerely,
Steve White
Porkie's Original BBQ Founder
The Porkie's Original BBQ Business Franchise
Named the "Best BBQ in Central Florida," Porkie's Original BBQ celebrates its 14th year in business in 2017 and continues to create a devoted and growing fan base of barbecue lovers. Porkie's holds the longest running Bike Night in Central Florida – every Thursday night for 10 years.
Founded in 2003, Steve White and his partner, Mike Kirby, travelled all over Florida, Tennessee, Alabama, Georgia and the Carolina's searching for the perfect BBQ flavor. Returning home, they formulated a plan and a recipe for the best barbecue in the South. They took the best of what they had seen, tasted and learned, put it all together with what they knew and loved, stirred it up, and Porkie's was born in Apopka, Florida.
A better BBQ business is born.
Since the opening of the first Porkie's location, Steve and Mike have worked closely with a carefully selected team of restaurant professionals in the development of their barbecue restaurant concept. They based their business on the principles of providing the customer with the highest quality, fresh ingredients, and fast efficient service, at an affordable price, all in a clean family environment.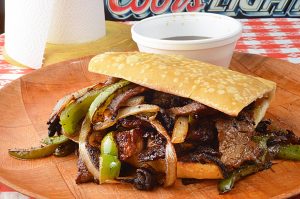 As a result, Porkie's received rave reviews from the start. As the owners of Porkie's perfected and elaborated their operation, they received the ultimate compliment, customers began inquiring about the possibility of owning and operating a Porkie's Original BBQ of their own. Steve and Mike then began the development of the Porkie's Original BBQ Franchise System.
What makes Porkie's so special?
All Porkie's sauces are 100% original recipes and made from scratch. Porkie's award-winning ribs are slow cooked on a 20-foot BBQ pit using oak and hickory woods, giving the ribs a hearty taste and a moist texture. Slow and low is the secret to good barbecue, and that's the only way Porkie's does it.
Steve and Mike are dedicated, and we hope you will be too, to making the Porkie's experience a fun, family friendly and tasty experience for all!
So, do you want to learn more?
It's easy to request more information on the Porkie's Original BBQ Franchise Opportunity. Just complete the short form below to receive a free, no obligation franchise kit:
The franchising information contained in this website is not intended as an offer to sell a franchise or the solicitation of an offer to buy a franchise. The following states and provinces regulate the offer and sale of franchises and/or business opportunities: Alabama, California, Connecticut, Florida, Georgia, Hawaii, Illinois, Indiana, Iowa, Kentucky, Louisiana, Maine, Maryland, Michigan, Minnesota, Nebraska, New Hampshire, New York, North Carolina, North Dakota, Ohio, Oklahoma, Oregon, Rhode Island, South Carolina, South Dakota, Texas, Utah, Virginia, Washington and Wisconsin in the United States, and the provinces of Alberta, Ontario, New Brunswick, and Prince Edward Island in Canada. If you are a resident of one of these states or provinces, we will not offer or sell you a franchise unless and until we have complied with the applicable presale registration and disclosure requirements in your state or province.