Finally, a Fish & Chips Seafood Franchise that makes sense
If you've done your research looking for the right restaurant franchise I'm sure you keep seeing the same tired concepts again and again. Well, at Ray's Fish & Chips, we're a little different.
We prepare actual food – fresh, ocean-caught seafood that is just delicious. That's why our customers return day after day and night after night to see what's on the "Fresh Fish Board.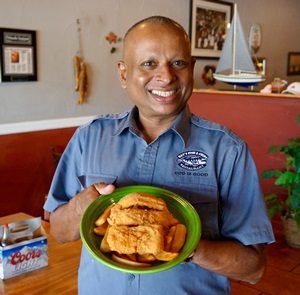 We buy fresh from local sources and "import" catches from New England. We hand select and carefully inspect every piece of fish we serve. We also offer our menu items at a good price and focus on customer service. That's what makes us different.
The bread and butter of our menu is fantastic fish and chips, but we also have so many other options on the menu — from fresh Florida grouper to live Maine lobster. You're not going to find these items at the competition or even in a lot of supermarkets. That's why we have so many repeat customers and have become a part of the community. Customers appreciate the lengths we go to serve the best.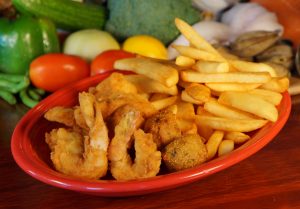 So, from all of us at Ray's, we say "thank you!" for your interest in our franchise opportunity. We hope our franchise kit will provide you with a lot of the information and a good head start in your quest to find the right franchise for you, and please know that we are always available to answer any questions you might have.
I look forward to meeting you in person and helping you "get your fish in the fryer."
Sincerely,
Chef Ray Goonewardena
Ray's Fish and Chips Founder
The Ray's Fish & Chips Business
Chef Raymond Goonewardena and his wife, Ruth, first opened their seafood restaurant "Ray's Fish & Chips" in Forest City, Florida in 2006 after moving from their home in The Bronx. Run-away success from the beginning forced them to relocate into a larger space in nearby Apopka soon after opening to handle the crowds who had discovered the best seafood in the Orlando area.
Ray's Fish & Chips immediately received rave reviews on social media, restaurant review websites and accolades from restaurant reviewers Scott Joseph and Heather McPherson of the Orlando Sentinel. EatingOrlando.com named Ray's the "best fish and chips in Orlando."
What's on the menu at Ray's?
Fish & Chips of course, and our fish & chips is your choice of cod or haddock, but cod is the most popular. Ray's offers "ultra-fresh" fish and seafood and Ray is proud to say "the fish you order tonight, was swimming last night."
Other delicious menu items include live Maine lobster, Ipswich whole belly clams, conch, juicy prawns (shrimp), red snapper, Florid grouper, Chesapeake Bay crabs, sockeye red salmon, and even center-cut steaks. Most menu items are available fried, broiled or blackened.
Sides include hush puppies, onion rings, French fries, roasted vegetables and more. Also available are house-made salads, fish sandwiches, burgers and chicken. We've got it all and it's all good.
So, do you want to learn more?
It's easy to request more information on the Ray's Fish & Chips Franchise Opportunity. Just complete the short form below to receive a free, no obligation franchise kit:
The franchising information contained in this website is not intended as an offer to sell a franchise or the solicitation of an offer to buy a franchise. The following states and provinces regulate the offer and sale of franchises and/or business opportunities: Alabama, California, Connecticut, Florida, Georgia, Hawaii, Illinois, Indiana, Iowa, Kentucky, Louisiana, Maine, Maryland, Michigan, Minnesota, Nebraska, New Hampshire, New York, North Carolina, North Dakota, Ohio, Oklahoma, Oregon, Rhode Island, South Carolina, South Dakota, Texas, Utah, Virginia, Washington and Wisconsin in the United States, and the provinces of Alberta, Ontario, New Brunswick, and Prince Edward Island in Canada. If you are a resident of one of these states or provinces, we will not offer or sell you a franchise unless and until we have complied with the applicable presale registration and disclosure requirements in your state or province.