Broom Hildy Cleaning Franchise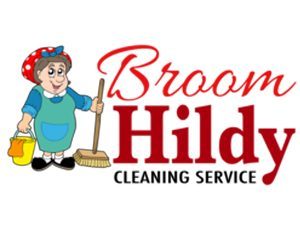 At Broom Hildy, our business has been built on our reputation for quality. We understand business cleaning, office cleaning, and janitorial services from floor to ceiling, and we know customer satisfaction is achieved through hard work. We deliver the cleaning service you expect, with the integrity you deserve.
We have been very successful in supplying our clients with exceptional service that has enabled us to grow exponentially since 2013, ultimately allowing us to expand to different areas throughout the state of Florida. Our business began in Brevard County and has grown through client referrals and positive feedback.
Our Mission
To change the culture of cleaning—one person, one clean and one community at a time.

Our Vision
To establish Broom Hildy as the premier cleaning company in the country while maintaining uncompromising quality service while we grow.

–Chris Hilderbrand, Broom Hildy Founder
About Broom Hildy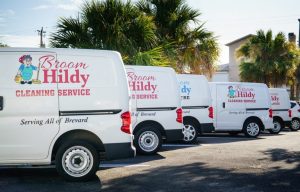 Broom Hildy. Where did it come from? How did it start? The story of Broom Hildy starts with its founder Chris Hilderbrand, builds through its team, and continues on with you.
Broom Hildy was born more than 30 years ago when CEO and Founder Chris Hilderbrand was dubbed Hildy by a fellow teammate. The nickname soon evolved to Broom Hildy after other classmates called him Broom.  The name stuck with Chris and was often said to someday be something big. In 2013, Chris and his wife Kim formed Broom Hildy Cleaning Services with the experience and the belief that they would succeed.
In building Broom Hildy, Chris chose employees he would soon call family. Chris's philosophy of "I am only as good as my team, and my team is only as good as me. When we succeed, we succeed together" is shown through the dedication of his staff.  Broom Hildy prides itself in the attention to detail, the "old school, white gloved" treatment every client receives. When your staff feels part of the family, they will represent you in the most amazing of lights.
As we move forward in 2017, we want you to be a part of the Broom Hildy story and experience.  Help us to grow our family, and add to our success, with you at the forefront.
Why own a Broom Hildy Cleaning Franchise?
Our Record of Success
You purchase a thriving business concept that has already been tried and tested in the competitive Florida market and is now expanding into other regions. Since the company formed in 2013, Broom Hildy has had massive growth due to exceptional customer service and structured guidance from it's CEO Chris Hilderbrand.
Total Training and Support
Comprehensive training in all aspects of running a Broom Hildy franchise will be given to you by the Broom Hildy management team before and after launching your own Broom Hildy franchise.
Profitable & Rewarding Business
Broom Hildy's differentiators are vast. It is a simple concept generating quick cash flow from residential, commercial, and janitorial cleaning services. Enjoy controlling your own future with a flexible schedule and more opportunities to increase your business on demand.
Reasonable Investment
Not only are the risks reduced when starting up a Broom Hildy, it is also a realistic investment for a professional that wants to own their own business. Our business model allows for you to enter the 50+ Billion dollar cleaning industry for as low as $62,925.
Join the Broom Hildy Team!
Our team is offering more than a business opportunity. If you find being a leader and working with elite business professionals exciting, then our franchise is for you!
So, do you want to learn more?
It's easy to request more information on the Broom Hildy Franchise Opportunity. Just complete the short form below to receive a free, no obligation franchise kit:
The franchising information contained in this website is not intended as an offer to sell a franchise or the solicitation of an offer to buy a franchise. The following states and provinces regulate the offer and sale of franchises and/or business opportunities: Alabama, California, Connecticut, Florida, Georgia, Hawaii, Illinois, Indiana, Iowa, Kentucky, Louisiana, Maine, Maryland, Michigan, Minnesota, Nebraska, New Hampshire, New York, North Carolina, North Dakota, Ohio, Oklahoma, Oregon, Rhode Island, South Carolina, South Dakota, Texas, Utah, Virginia, Washington and Wisconsin in the United States, and the provinces of Alberta, Ontario, New Brunswick, and Prince Edward Island in Canada. If you are a resident of one of these states or provinces, we will not offer or sell you a franchise unless and until we have complied with the applicable presale registration and disclosure requirements in your state or province.