Find Out What's Poppin' at Tastebuds Popcorn
Our mission at Tastebuds Popcorn is to share our popcorn passion with entrepreneurs that want to give their customers a whole new taste adventure with the world's most popular snack. By reinventing popcorn, your customers will now have over 200 gourmet flavors to experience and devour! Our goal is to have Tastebuds Popcorn in every major city and state! We want to share our success and passion with you.
A little history
Tastebuds Popcorn was established in 2011 by owner Jay Pithwa in the historic town of Belmont, NC.
Born and raised in London, England, Jay moved to the Carolinas in 2007. Being a huge movie buff, Jay loved the excitement and variety of the big screen. However, he quickly grew tired of the limited popcorn selection. This inspired him to reinvent the world's most popular snack.
Like Willy Wonka, Jay then spent several years to research and develop the perfect recipes.
Tastebuds Popcorn today
Still in Belmont, Tastebuds Popcorn now creates over 200+ flavors and has grown from a humble 200 square-foot kitchen to a Top Secret Popcorn Facility that's over 4000 square feet!
Having been honored to appear on multiple TV stations, including the Charlotte Today Show and Good Day Charlotte as well as many print publications like the Food Network Magazine has only helped propel our popularity. Awards include Retailer of the Year, Best of Weddings from the Knot Magazine and the Epic Award.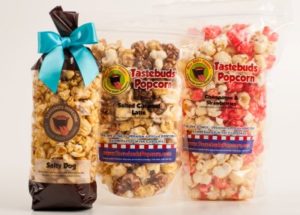 Opportunity awaits for those who not only want to enjoy the exposure of a brick & mortar storefront but can also reap the benefits from multiple revenue streams that include Fundraising, Corporate Accounts, Festivals and other offsite events, POS-based Online Store, Wedding and Event Favors and Popcorn Bars as well as the potential to wholesale.
Pick a location you love
Tastebuds Popcorn retail locations work well in high-traffic areas such as tourist and beach towns, malls, shopping centers, and stand-alone buildings, but Tastebuds has also proven to be a destination experience for many. Popcorn lovers drive for miles and miles for our famous poppings.
Tastebuds Popcorn is great for:
Fundraising
Corporate Gifts
Weddings
Employee Appreciation
Sales Rep Office Gifts
Wholesale Accounts
And we ship too!
Popcorn Sales Explode
If you feel like there is popcorn on every end-of-aisle display in the supermarket, you probably aren't exaggerating (too much). Market research firm Mintel reports that overall popcorn sales have jumped 32% in the last five years. Within the popcorn category, the Ready-to-Eat (RTE) segment has grown a whopping 118%. In dollar terms that translates into a $1.1B market for RTE popcorn (and $2.5B for all popcorn sales).
American consumers have long embraced popcorn as a healthy snack alternative (assuming they eat it without adding melted butter and loads of salt), but the demand for flavored popcorn has grown as the consumer now looks for new taste experiences – everything from indulging in chocolate/caramel covered popcorn to seasonal flavors like pumpkin in the fall. Popcorn is riding a wave of consumer demand for convenience, a perception of healthy food (or, conversely, an indulgent snack), and the snack-as-meal trend.
Reasons to own Tastebuds Popcorn:
One of the industry's lowest priced business opportunities
Little to no experience required to own
No cooking or cleaning. Just order what you need.
Multiple revenue streams
Family owned and operated business
Low startup costs
Low marketing fees
Shelf stable products with very little waste
Small store footprint
Open for business in weeks, not months
People are talking about Tastebuds
Tastebuds has been featured in Food Network Magazine, ABC, NBC, CBS and Fox, and has received numerous accolades and awards including The Knot Magazine's 'Best of Weddings' and 'Retailer of the Year'. The word is out, so it's time to get popping!