The Thumbs Up Diner Franchise Opportunity
In 2014, the US restaurant industry topped $562 billion in food and drink sales, with the full-service restaurant segment accounting for more than $183 billion. More than half of all money spent dining out is spent at franchise restaurants. Making franchise restaurants the most successful of all restaurants.
And breakfast is the fastest growing segment in the restaurant industry. Last year more than 12 billion breakfast meals were served in U.S. restaurants. "Breakfast has been and is projected to continue to be a bright spot for the restaurant industry," says Bonnie Riggs, NPD's restaurant industry analyst.
With a casual and relaxing atmosphere, convenient locations and great food, breakfast at a Thumbs Up Diner has become a regular part of our customer's routine.
A business that fits your lifestyle
Imagine owning a restaurant without having to worry about working late nights, dealing with alcoholic beverages or evening emergency calls. One that is closed by 4 pm each afternoon and that frees up your evenings for family, friends or doing whatever you want to do.
This is the lifestyle of Thumbs Up Diner franchise owners. It is also the lifestyle of your employees and managers — allowing you to attract a skilled and committed staff.
Thumbs Up Diner offers a unique franchise opportunity for the right person
Short Operating Hours: Thumbs Up Diner is a restaurant that has a focus on breakfast, meaning it has a daytime schedule with a 4 pm closing time.
As a franchisee, your investment in time is limited, which leaves plenty of time to enjoy your family and have a life outside of work. In other words, you'll own your business — not the other way around.
Limited competition: There may be a half dozen pizza, burger and sandwich restaurants within a 3-mile radius of most restaurants, but in many cases there are no breakfast-oriented restaurant. Your breakfast-focused menu allows you to separate yourself from the competition.
Signature menu: Every aspect of the food from the quality, portion size and flavor create a uniquely Thumbs Up experience. With our proprietary recipes and vendor relationships, you will be creating Thumbs Up Diner memories for your own customers from the day you open your restaurant.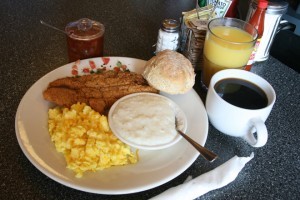 Neighborhood clientele: With a mix of regulars including neighbors, business people, families and daters, Thumbs Up Diner is a great meeting place for any occasion with its casual atmosphere and friendly get-to-know-you service.
Whether stopping in for a cop of coffee or a full meal, Thumbs Up Diner quickly becomes a part of people's lives.
So, do you want to learn more?
It's easy to request more information on the Thumbs Up Diner Franchise Opportunity. Just complete the short form below to receive a free, no obligation franchise kit:
The franchising information contained in this website is not intended as an offer to sell a franchise or the solicitation of an offer to buy a franchise. The following states and provinces regulate the offer and sale of franchises and/or business opportunities: Alabama, California, Connecticut, Florida, Georgia, Hawaii, Illinois, Indiana, Iowa, Kentucky, Louisiana, Maine, Maryland, Michigan, Minnesota, Nebraska, New Hampshire, New York, North Carolina, North Dakota, Ohio, Oklahoma, Oregon, Rhode Island, South Carolina, South Dakota, Texas, Utah, Virginia, Washington and Wisconsin in the United States, and the provinces of Alberta, Ontario, New Brunswick, and Prince Edward Island in Canada. If you are a resident of one of these states or provinces, we will not offer or sell you a franchise unless and until we have complied with the applicable presale registration and disclosure requirements in your state or province.